Keynote Speakers
---
Web of Things as a Framework for Ubiquitous Intelligence and Computing
Professor Tharam S. Dillon, Curtin University of Technology, Australia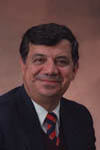 Abstract
The last few years have seen an explosive growth in the use of the web for many aspects of business and human endeavour. The web has evolved from its very early days where it was purely used for information dissemination, to application deployment on the web, the read-write web with Web 2.0 and progressively the provision of semantics on the web. In parallel with this development has been that of ubiquitous computing with the deployment of sensors and minimal computing devices on the person or in the environment of interest. These two trends initially started to come together with the "Internet of Things" connecting the sensors or base stations to the Internet. This has since evolved to the "Web of Things" which uses a standardized protocol HTTP as an application protocol instead of just as a transport protocol to provide connection of sensors with the internet. This relies on the so-called "Restful Services" or Resource Oriented Architectures. Within this framework, the "Web of Things" refers to the next generation of network and web where each and every object on the globe will be identifiable, interactive and a part of an adhoc network. The "Web of Things" relies on the numerous electronic devices or sensors, which form a collaborative system.
In this talk, I will present a conceptual framework and reference architecture for embedding the notions of Ubiquitous Intelligence and Computing within the "Web of Things" and empowering their use in a broader context. I will also outline a number of existing application areas such as:
Oil, gas, resources and manufacturing industries
Vehicle, road, traffic and transportation
Smart homes
Human space technologies, smart appliances and wearable devices
Social Networking
Convergence
(Extended Abstract)
About the speaker
Professor Tharam S. Dillon is internationally recognised for his research on Semantic Web, Web services, knowledge discovery, data mining, neural networks, intelligent systems, object-oriented systems, communications, real time systems, fault tolerant systems, and distributed protocol engineering. He is Chair of the IFIP International Task Force WG2.12/124 on Semantic Web and Web Semantics, and the IEEE/IES Technical Committee on Industrial Informatics.
Professor Dillon is an expert in Web Service Architecture, Web Semantic, Ontologies, XML Modeling, Modeling the Reliability of Computer Systems, Object Component based Conceptual Modeling and Design, Knowledge Discovery and Trust in Service Oriented Environments as well as Validation of complex state based systems including protocols using high level Petri nets. He has also been active in the field of XML based systems for over the last 9 years. He has recently given keynote speeches at major IEEE and IFIP conferences on (1) Reference Architecture for Web Services and (2) Semantic Grid Services (3) Biomedical Ontologies (4) Ontologies for Software Engineering (5) Mining Substructures in Proteins. Professor Dillon has a strong track record of working on ontologies and web semantics. His previous work in Real Time Systems, Semantics and the Web includes Sub Ontologies, Integrated Multiagent Ontology Development Methodology, Real Time XML Profile, Ontology Description Language, Object Oriented Conceptual Modelling, Modelling the Dynamics using Coloured Petri nets, SE methodology for Developing Composite Web Services and SOA architectures. He has also developed important algorithms for data mining of complex structures including tree structured data and sequence data. He has also proposed the use of Web 2.0 and social networking in conjunction with ontologies, web services and agents. Sensor network applications he is involved in include vehicular traffic management, intelligent airport, power system monitoring, remote oil platform monitoring and control and intelligent and adaptive manufacturing. Professor Dillon's research has made significant contributions to a number of application areas including bioinformatics, logistics, banking and finance, electrical power systems, telecommunication and management.
(Professor Dillon's Extended Bio)
---
Distributed Computing in Opportunistic Environments
Professor Mohan Kumar, The University of Texas at Arlington, USA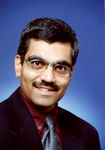 Abstract
Opportunistic networks have evolved from mobile ad hoc networking and the delayed tolerant networking paradigms and have quickly gained popularity in research and industry. In opportunistic networking, when pairs of devices come within each others' communication range, opportunistically, short-lived links (or opportunistic links) are created. Opportunistic computing exploits the opportunistic links created by pair-wise contacts, to share information content, resources and services, leading to a wide variety of applications. In this talk we discuss the research challenges and issues in exploiting opportunistic contacts to create a delay tolerant distributed computing environment. Further more, the impact of social computing and networking paradigms for such problems as synchronization and trust will be investigated. Results of ongoing research work on information dissemination, collaboration and trust will be presented. The research work is supported through an NSF grant.
About the speaker
Mohan Kumar is a professor at the University of Texas at Arlington (UTA). Prior to joining in 2001, he was a faculty member at Curtin University in Perth during 1992-2000. Mohan received his PhD from the Indian Institute of Science, Bangalore in 1992. His research interests are in the areas of Pervasive and Mobile Computing, Sensor Systems and Distributed Computing - he has published over 150 articles in refereed journals and conference proceedings, advised several Masters' theses and PhD dissertations, and secured competitive funding in these areas. He is a co-founder of the IEEE PerCom conference, and the Elsevier's Pervasive and Mobile Computing Journal.
---
Design for Trust in Ambient & Ubiquitous Computing
Professor Jean Camp, Indiana University, USA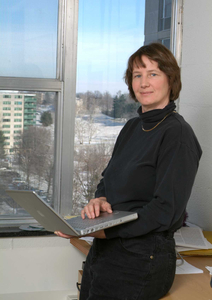 Abstract
Ambient and ubiquitous computing systems are characterized by interfaces so non-traditional that these are often not recognized as computer interactions during use. Further these systems may be always on, embedded nearly invisibly into physical surroundings. Thus empowering individuals to control their own privacy and security in ubiquitous computing is particularly problematic. This is further complicated by the fact that privacy is personal and contextual, while system design in centralized. In this presentation, I describe the designs and associated research methods for developing and evaluating privacy-aware ubicomp for in-home use. The project focused on integrating individual's risk perceptions with respect to security and privacy into the technology, so that choices which appear to be risk- mitigating do indeed mitigate risk. Using six prototypes, the presentation illustrates design for trust in home-based ubicomp.
About the speaker
Prof. Camp began her graduate studies in electrical engineering in North Carolina before moving to the Department of Engineering and Public Policy at Carnegie Mellon to complete her PhD in Engineering and Public Policy. Upon graduation she became a Senior Member of the Technical Staff at Sandia National Laboratories. She left Sandia National Laboratories for eight years as a professor at Harvard's Kennedy School, departing to lead the security group in the newly- formed School of Informatics at Indiana University. Professor Camp is the author of "Trust and Risk in Internet Commerce" (MIT Press), "Economics of Identity Theft" (Springer) and the editor of "Economics of Information Security" (Kluwer Academic). She has authored over one additional hundred works, including ninety peer-reviewed works and two dozen book chapters. She has made scores of invited presentations on five continents. Her patents are in the area of privacy-enhancing technologies.