Venue Information
The UIC/ATC'09 conferences will be held at The University of Queensland's St. Lucia campus in Brisbane.
The various conference activities including plenary keynote sessions, conference and workshop paper sessions, and the panel session will be held at the venues indicated in the Conference Program: Abel Smith (Bldg 23), Innes (Bldg 21C), Social Sciences (Bldg 24), and GP North (Bldg 14).
The first day conference registration, conference opening and the first day plenary keynote sessions will be held in the Abel Smith building.
Coffee breaks and lunches will be in the Holt Room (Bldg 21C).
The map below shows the location of the four buildings to be used during the conference. The map also shows how to get to the conference venue from the CityCat ferry terminal at The University of Queensland. The CityCat service is the recommended type of transport for conference participants whose accommodation is in the city centre. To reach the conference venue from the CityCat terminal is a short walk up Blair Drive and into Union Road as indicated by green arrows (follow the signs to the Student Union Complex).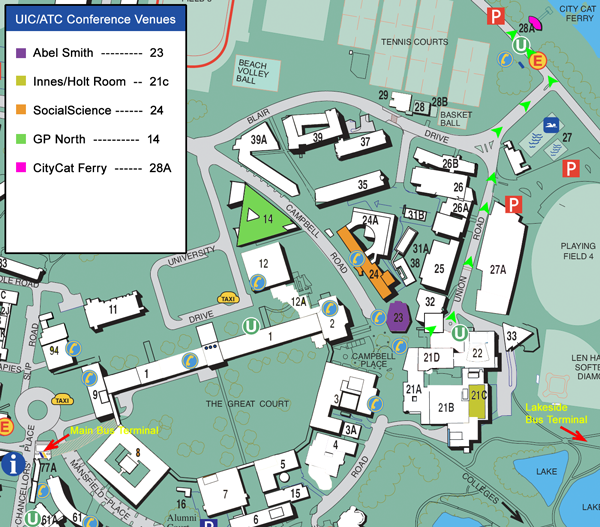 A full map of the campus is available here.
How to get to The University of Queensland
CityCat
The best way to reach The University of Queensland from the city centre is via the Citycat ferry service. Ferries run from 5.30 am until 11.30 pm. Conference participants who board a Citycat ferry in the city centre (North Quay or Riverside stops) should choose a Citycat stop that indicates the direction of the University of Queensland (UQ). The trip from North Quay to UQ takes around 23 minutes.
Please see the map and the CityCat timetable.
An excerpt from the CityCat timetable, shown below, gives a few morning Citycat trips to UQ:
| | | | | |
| --- | --- | --- | --- | --- |
| North Quay | 7.47 | 8.17 | 8.32 | 8.47 |
| Arriving at UQ | 8.10 | 8.40 | 8.55 | 9.10 |
Tickets for the ferry can be bought on-board and timetables are also available on-board. Daily tickets are the best value as they allow multiple trips per day and therefore stops can be made at various interesting locations (Southbank, Eagle Street Pier). A daily ticket from the city centre to UQ costs AUD $5.80. There is one type of tickets for buses, ferries and local trains and therefore a daily ticket is valid for all three types of transport.
Buses
Bus routes 409 and 412 depart from the city centre and travel to UQ. Both routes leave from Adelaide St stop 16 (at the corner of Adelaide St. and George St.). The respective timetables for these routes can be found here here. The buses arrive at two different bus stops at UQ: Chancellors Place (Main Bus Terminal) for 412 and UQ Lakes (Lakeside Bus Terminal) for 109. The latter is closer to the conference venue.
For more information on bus maps and timetables, please check here